10 Most Famous Things In Thailand
5 min read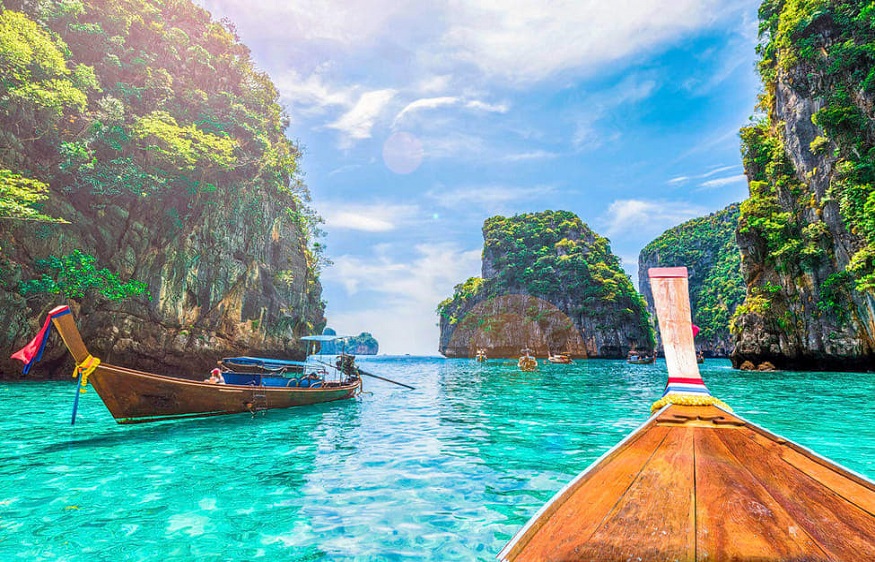 The "Land of Smiles" is one of Southeast Asia's crown jewels. Thailand is well-developed and provides all kinds of modern comforts, thanks to the thriving tourism industry, but it's also wild enough to offer off-the-beaten-path adventure and once-in-a-lifetime travel experiences. Thailand will not disappoint, whether you come for the world-class beaches in the south or the mountain villages in the north.
Cities like Bangkok and Chiang Mai are hives of activity and commerce, but you haven't seen the country until you've trekked in the mountains or met elephants or the bold monkeys who are always ready to steal your lunch (or your camera, if you're not careful). These things are what Thailand is famous for, so are you ready to unravel the 10 most famous things in Thailand that make Thailand unique? If yes then scroll down to know these things.
Tuk Tuks
The Grand Palace
The Damnoen Saduak Floating Market
Underwater World Pattaya
Bangkok Chao Phraya Cruise Dinner
Dolphin World
Phuket's Tiger Kingdom
Thai wood carvings
Thailand's Long Neck Villages
Phang Nga Bay
1.Tuk Tuks
Tuk Tuks can now be found in almost every country, but many people are unaware that they originated in Thailand. Tuk Tuks are manufactured in Thailand and India, and both are exported to countries around the world, including Germany and Switzerland. You can take a tuk-tuk and explore the best of Thailand on your Thailand holiday packages.
A Tuk Tuk ride is a must when visiting Thailand's capital, as it is the best way to experience the atmosphere, streets, and crowded traffic. Furthermore, Tuk Tuks are one of Thailand's most recognizable symbols.
Source: Unsplash
2. Visit the Grand Palace
This is the most well-known attraction in Bangkok, located in the heart of the city. For 150 years, the palace housed the king, his court, Thailand's entire government, and the Royal Mint. There is so much to see and do with a total area of 218,400 square metres that you will not be disappointed. Huge walls were built around the palace and offices in 1782 to make it the attraction it is today. Please note that there is a strict dress code in place at the palace, so please dress appropriately or entry will be refused.
Source: Unsplash
3. The Damnoen Saduak Floating Market is a must-see.
There are several floating markets in Thailand, but this is the largest and most well-known; it is enormous! Boats are going up and down the canals selling various foods and fruits. This floating market is one of the most famous things in Thailand.
A visit to this market will provide you with a real sense of how things were many years ago. For those who enjoy taking photographs, the narrow canals and small wooden stilt houses will provide plenty of opportunities.
The market is about 100 kilometres outside of Bangkok, but it is well worth the trip.
4. Bangkok Chao Phraya Cruise Dinner
Cruising along Thailand's famous Chao Phraya River is one of the most enchanting things to do. This enchanting candlelight dinner cruise is an excellent way to marvel at Bangkok's various captivating attractions on either side of the River.
While cruising down the river, you can see the beautifully illuminated Grand Palace, the splendour of Wat Arun or the Temple of Dawn, the Rama 8 Bridge, Phra Sumen Fort, and other attractions. The cruise lasts two hours, during which you can eat delectable Thai and international cuisines and learn about Thai culture and history through live music and dance performances.
5. At Underwater World Pattaya, you can see marine life.
This underwater world is one of the most famous things in Thailand. You can see the most exotic and rare marine life without actually diving into the ocean. As you observe the various species of colourful fish and corals, the experience is equally enthralling for both children and adults.
Sharks, giant groupers, and stingrays can be approached up close and personal. Feed the white and orange Koi fish and interact with the ancient green turtle. You can also swim with the sharks and stingrays in the fish tank with the instructor. This could be one of the most daring activities in Thailand.
6. Go to Dolphin World.
If you think dolphins are cute and want to spend one of your days in Pattaya playing with them, Pattaya Dolphin World should be on your list.
All of the attractions available here are popular with both children and adults. The Dolphin Show is the most notable attraction at Dolphin World, where you can see these intelligent sea creatures demonstrate their various talents with the assistance of professional trainers.
If you want to take your experience to the next level, dive into the pool with the dolphins and enjoy an uninterrupted swimming session with them. It is one of the best tourist destinations in Pattaya due to its world-class infrastructure and exciting range of experiences.
7. Phuket's Tiger Kingdom
The Tiger Kingdom in Phuket is an excellent example of tourism combined with wildlife conservation.
The preservation allows visitors to get up close and personal with several Indochinese tigers of various ages and sizes that have been raised in captivity by hand since birth. The area also has facilities for overnight camping with a variety of amenities. It is one of the most famous things in Thailand.
Source: Unsplash
8. Thai wood carvings
When you start looking, you'll often come across Balinese and Thai furniture and carvings, such as these statues. Take care! Though you can buy Buddha statues almost anywhere, neither statues nor images of Buddha can be taken (legally) out of Thailand. See a few more dos and don'ts for your trip to Thailand to avoid unpleasant surprises.
9. Phang Nga Bay
Phang Nga Bay, a seductive and angelic bay surrounded by Phuket, Phang Nga, and Krabi, is one of Thailand's most scenic places to visit. The only thing you'll want to do here is dive into the emerald-green water. Phang Nga Bay is only 95 kilometres from the aforementioned locations and is home to the popular island of Khao Phing Kan, also known as James Bond Island (as some part of the Bond movie, The Man with the Golden Gun was shot here).
Source: Unsplash
10.Visit the Karens in Thailand's Long Neck Villages.
Thailand is home to many tribes, including one that lives on the borders of Myanmar, Kayah State, southern Shan State, Ayeyarwady Region, Tanintharyi Region, Bago Division, and western Thailand. Karen is a tribal group best known for their elongated necks, and visiting one of these long-neck villages will provide every traveller with an unforgettable experience. They wear traditional brass rings around their necks, and heavy metal cages on their shoulders, making their necks appear long.
That concludes our list of "What is Thailand popular for?" As you can see, there are numerous reasons to visit Thailand, and we can assure you that you will have a wonderful time if you ever decide to visit this fantastic nation by choosing one of the packages on the Pickyourtrail website.