5 GOOD REASONS TO TAKE PART IN A FOOD TOUR.?
4 min read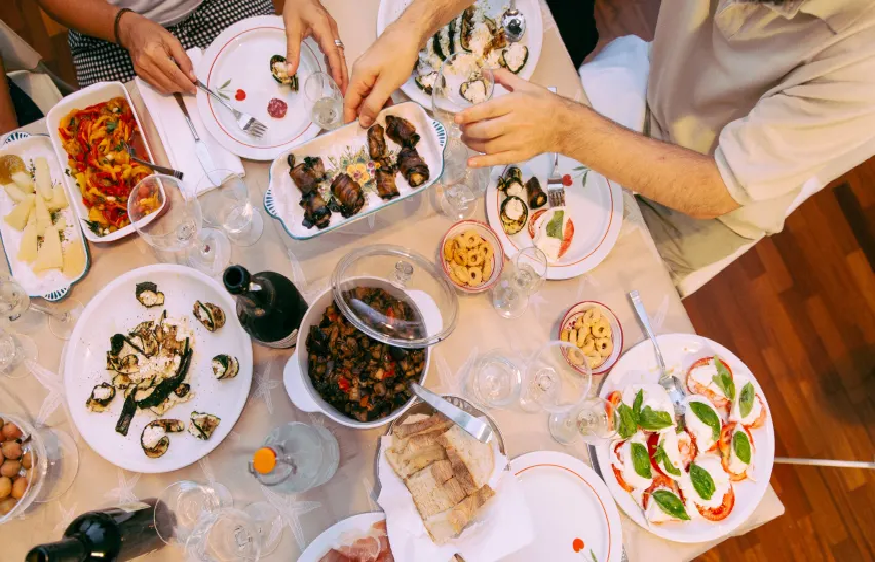 Like me, you do not consider exploring a city without going through the "tasting of culinary specialties" box? Once there, you are only waiting for one thing: to devour this new territory to the fullest… If you have the opportunity and the means, it is therefore in your interest to book a food tour , a guided tour that will satisfy as much your appetite for new flavors as well as historical and cultural anecdotes!
1/ Collect tailor-made advice
By participating in a food tour , you can be sure to receive the best advice on where to eat and the specialties not to be missed during your stay. Your guide will inevitably be a passionate person who will show you the lesser-known addresses of tourists and can inform you of the establishments where you can go according to your tastes, your wishes and of course your budget.
Your guide will also be a local or at least someone who has lived in the region for some time who will share with you their experience of the city and their good addresses accumulated over the years. He will also and above all be able to give you up-to-date information on the bars and restaurants in the city (the speed at which these things can change is significant!). That's more than any travel guide can give you!
2/ Make the most of your time on site
If you only have a few days (or even a few hours) to visit a city, the food tour will not only allow you to get an overview of what the place can offer you in terms of cuisine, but also to identify its neighborhoods interesting. The food tour combines gastronomic tastings and a visit to the city punctuated by historical anecdotes.
3/ Discover places where you wouldn't have set foot
Discovery in the very center of Dublin: a cafe serving extraordinary cakes in the backyard of a community housing!As a tourist in an unfamiliar city, you will naturally tend to favor establishments whose outward appearance makes you feel confident or whose name is mentioned in your travel guide. Participating in a food tour will allow you to unearth pearls missing from tourist guides or to overcome your  preconceptions . Visiting Portland , I would never have thought that the caravans parked everywhere served some of the best  street food  in the world and I probably would not have tasted it if I had not participated in a food tour .
Food  tours  are generally limited to small groups of people (accommodating 50 people in a scullery wouldn't be very practical!) and will allow you to mingle with travelers who share the same interest in good food. Your topic of conversation will be found all: local food!The other participants will often be happy to share with you the good addresses discovered during their stays and can tell you which ones to avoid.You will also meet local artisans and cooks, passionate about their profession and eager to share a bit of their world with you.
5/ Discover the city differently
Because we don't always want to follow the pre-established list of places not to be missed in a city, why not choose to approach it from a different angle than the majority of tourists? In addition, people are generally very proud of their culinary heritage and the products of their regions: by taking an interest in them, you will create a completely different relationship with them than as a simple tourist who has come to sit down in their establishment. .
What is a food tour ?
An original guided tour during which you discover a city or region through its gastronomic heritage. Where a traditional guided tour takes you from a monument to a famous square, your food guide will open the doors to the best restaurants, the workshops of the most fashionable artisans or show you the way to the most richly stocked delicatessens.Selection of Irish made cheeses, Dublin.You will visit not only restaurants but also the best gourmet shops.
Where to participate in a food tour? How to find it?
Food tours are springing up everywhere, mainly in the big capitals. To find them, it's simple: Google is your friend! A simple search and verification of reviews on TripAdvisor will allow you to find the best organized tours in the region. Personally, I participated in 5   excellent food tours :You can also search for individuals who offer culinary walks on Vizeat .
How much does it cost ?
In general, you will have to pay from 50 € to 80 € per person (the amount can vary according to the standard of living of the city visited). A sum which may seem significant (especially if you are traveling on a low budget) but which is justified by the quality of the information you will receive and above all, the tastings in which you will be able to participate.
When to schedule it?
I advise you to plan your  food tour at the beginning of your stay in a city because you will certainly want to return to the places you have discovered during the tour, if only to enjoy it more at your ease.
Should I avoid eating before a  food tour  ?
Many people mistakenly think that you have to have an empty stomach before going on a  food tour . Be aware that the portions that will be served to you throughout the visit are generally reduced and spread over the total time of the visit. So avoid coming completely hungry but eat light if you have a modest appetite and want to be able to enjoy all the tastings!